Xmas Event!
🎆 Ho-ho-ho, Commanders!
🎄 The end of December is approaching and displayed on our Space Calendar. This is a time for magic and a new beginning. The Christmas miracle getting closer and closer, magnificent decorations appear on the hulls of various ships, and everything around is flooded with the light of garlands. The younger generation of Commanders, in pursuit of a Christmas mood, is experimenting with some space graffiti. Black markets are filled with festive music and holiday rush, the Arena hosts entertaining exhibition matches and events, many Commanders have tried on red-and-white outfits and thick snowy beards.
And only at the main Galactic Headquarters, hard work does not stop for a second. Suspicious signals are intercepted and decrypted, strategies are being worked out, new tactics are being developed…
🕵‍♂ And so, the Alien Intelligence Department discovered something unexpected. Elite squads of radio operators and decoders are rushing to report to the Intergalactic Security Council about the impending danger. Unidentified ships appeared on the radars, the only thing that was found out… is their radio numbers, GR-1nc4 and KR-4MPU5! It is not known for certain who exactly sits at the helm of these engineering monsters. However, according to the intelligence data, the equipment of these ships is very serious, and the ships themselves inspire fear with their huge forms. This "duet" has already managed to destroy a dozen ships of the best officers from the Headquarters. Fortunately, the officers were not injured, only their ships were disabled. Now, these ships are heading straight to the Arena, wreaking havoc and chaos. They want to steal the Christmas. Our Christmas! Will no one be able to stop them and the Christmas miracle is not destined to come true..?
🚀 Our answer is no! Commanders, let's stand up together and prove that our mood is not so easy to steal. It's time to complete the final, crucial tasks of this year in order to repel the surprise attack of the Grinch and Krampus. Let's save Christmas together, as a united fleet!
👾 We attach a task list to this post. In addition to the Christmas mood, Commanders will receive 5 Auction Points for each completed mission. Screenshots confirming the completion of tasks can be sent to the group's private messages or attached in comments to this post. Tasks are accepted until December 30, including the last day.
Warm up your engines, Commanders, we would never let our holiday sink into Oblivion!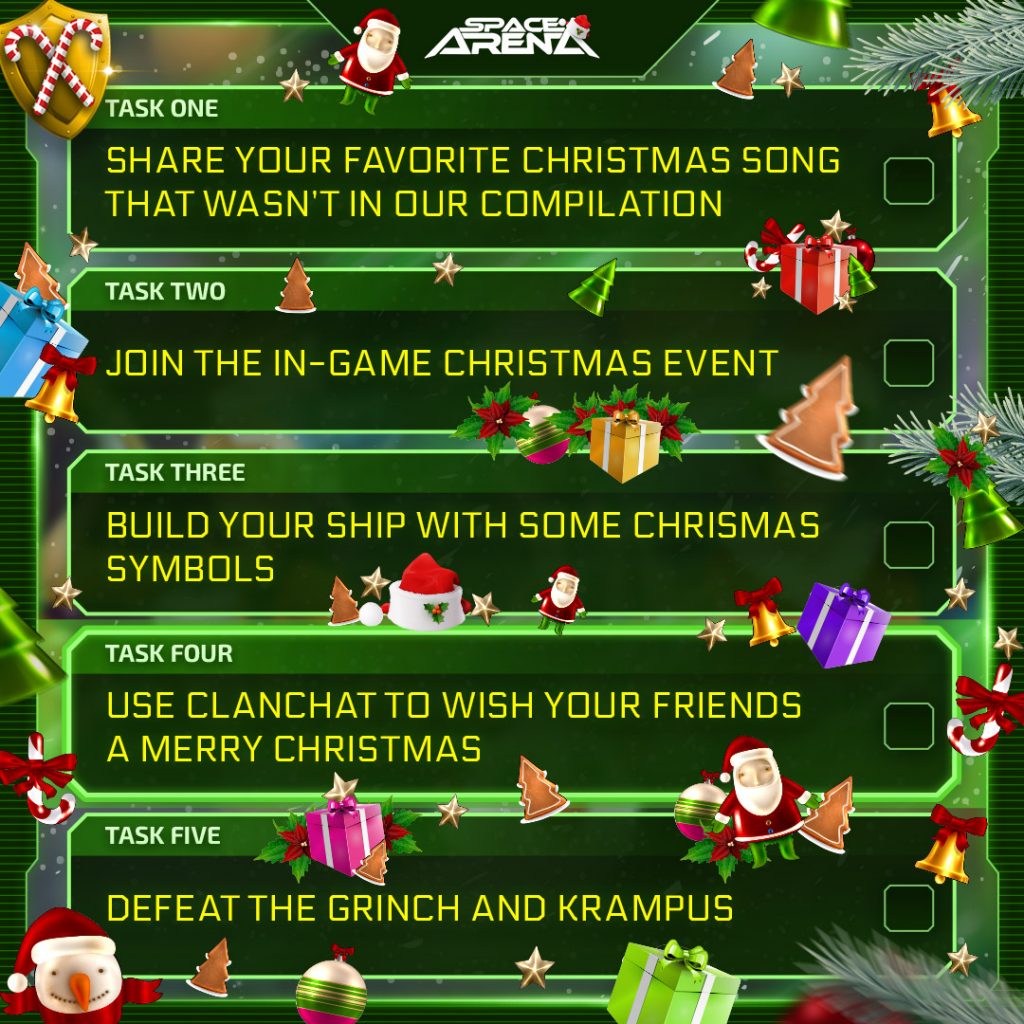 Did you like the article?
2929
-2
7
cookie-check
Xmas Event!