Weekly Digest, October, Week 4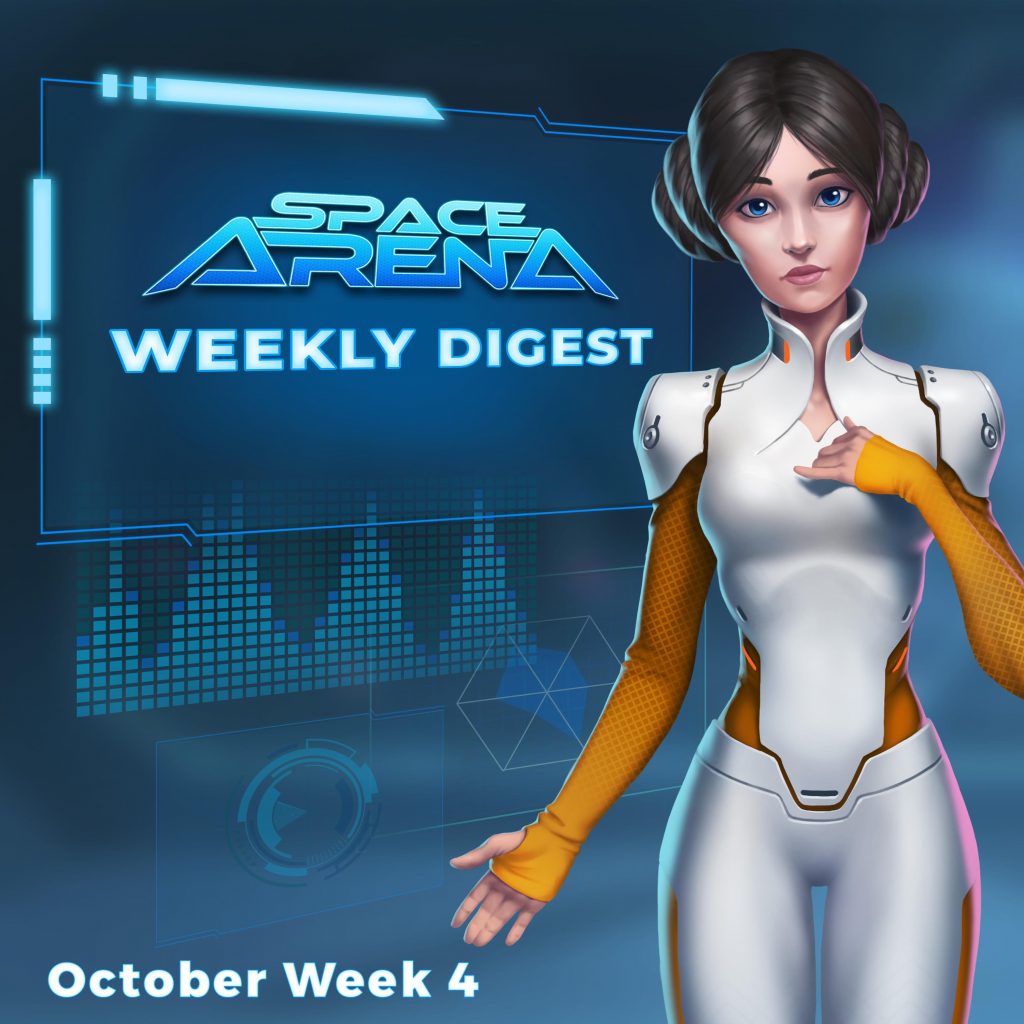 👨‍🚀 Greetings, Commanders!
💡 Now, without further delay, I, Serg, will say only one well-known phrase – it's weekly digest time! Let's see what's happened over the last week. And I assure you, there are lots to tell.
👾 This week we have prepared a small Galactic Crossword for you. We hid the names of twelve ships. Have you guessed all of them? Well, then I can say that you are a true Space Arena expert!
👨‍💻 We also have announced the results of the Grand Finale contest. This time we asked you to crack the color code, as well as determine the least dangerous option out of the three available so the Commander can reach his home. By the way, how about the contest mechanic? Did you like it? And don't forget to check out the winners – perhaps your nickname is on the list of color-coding experts and risks analysis masters c:
⚡ Yesterday we have presented to your attention very significant news about Clans. To be exact, we have announced the start of the Closed Clans Beta-test! All Commanders who have an Android device and an account with 55-56 levels are welcome to join! Here is the link to the full news with all the details.
📖 Another issue of the traditional Encyclopedia segment was published. This week's letter was the letter N, and the issue was rather fascinating and thrilling. It's all because we were talking about one outstanding person – Nate Pfitzer, also known as "Berserker"! If you want to know why she was called like that and what's "The Pfitzer Rule" – here is the link to the full story.
💬 Commanders! So, we had some good news about Clans around here. Have you already joined the Closed Clans Beta-test? Which name have you picked for your first clan? Or, maybe, you want to join the specific one? By the way, I have already tested the Clans feature with the devs, and I am really satisfied.
What are your expectations for the upcoming test? I am sure you have a lot to say, so let's discuss it on our Discord server.
🔶 And don't forget: our Team is always glad to hear your suggestions for the community and answer your questions!
Did you like the article?
2729
3
0
cookie-check
Weekly Digest, October, Week 4