Weekly Digest, November, Week 1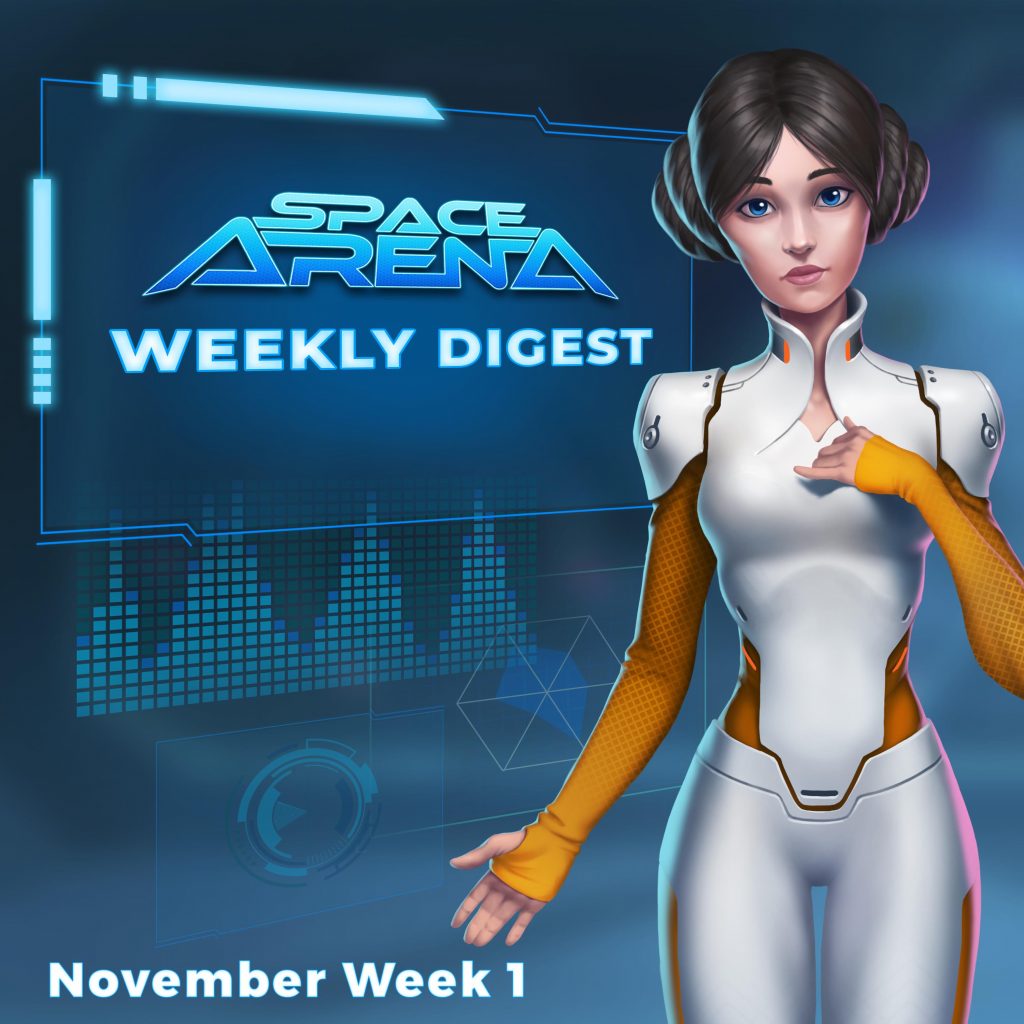 👨‍🚀 Greetings, Commanders!
💡 Here comes the long-awaited Friday! Serg is here, and I am really glad to welcome you with the Weekly Digest. Let's see what happened during this week (and I am pretty sure this one is brimming with the news!)
⚡The Clan System went into open beta test just over a couple of hours ago, which would smoothly transform into a global release. Finally, the long-awaited icon with crossed swords will appear on Commanders devices! Here is the link to the full news.
👾 As usual, we have decided to test Commanders' knowledge of various aspects of Space Arena's gameplay. This time the question was rather catchy, and lots of Commanders, including myself, have made a mistake! Congratulations to all Commanders who gave a correct answer – you are a true galactic generalist. с:
👻 Big thanks to our galactic community! Thanks to you, we were able to define the winners of the Spooky Stories Contest! Even though the number of the contest participants was not that large, the stories sent were really breathtaking and so different. Commanders, if you won the contest and yet did not spend the Auction Points – please, notify any of the community managers.
🤓 At the end of the week the community managers suddenly decided to indulge in some nostalgia.
It got to the point where we decided to inspect archives of the game, where we found some fascinating files. They are displayed in-game elements: what they looked like before and what they look like now. So far, the comments seem to suggest the things aren't as clear-cut: some old versions of the in-game elements have quite an effect on the Commanders. Who knows, maybe we will see some of them again in the distant future…
💬 Commanders! Finally, the news of the Clan open-beta test has already reached the Commander's hub! Not only would it mean that there would be unlimited testers but it would also mean that the global release is just around the corner! Frankly speaking, when I saw the news, I took the only decision – to plan the creation of my own clan dedicated to the mighty RNG. Well, it appears that the similar one was just created by the Discord user Thundercat, and it is called RNGSerg (this is not advertising btw :D), so I need to make a new plan, hehe…
Anyway, back to the open-beta test! Better tell me, what do you plan right now? Maybe, those Commanders, who did not take part in the testing yet are decided to enter the open-beta test? And what about Commanders, who have already joined testing? How's the clan promotion going? Сan't wait to hear your stories c:
And that's all for today!
See you at the Arena, Commanders!
Did you like the article?
2765
3
1
cookie-check
Weekly Digest, November, Week 1