We continue to interview players in the Top-2 Space Arena players in the world!
And today we are glad to introduce you to Igaiga1! Read the interview, and write in the comments what else you would like to know from top players👇👇👇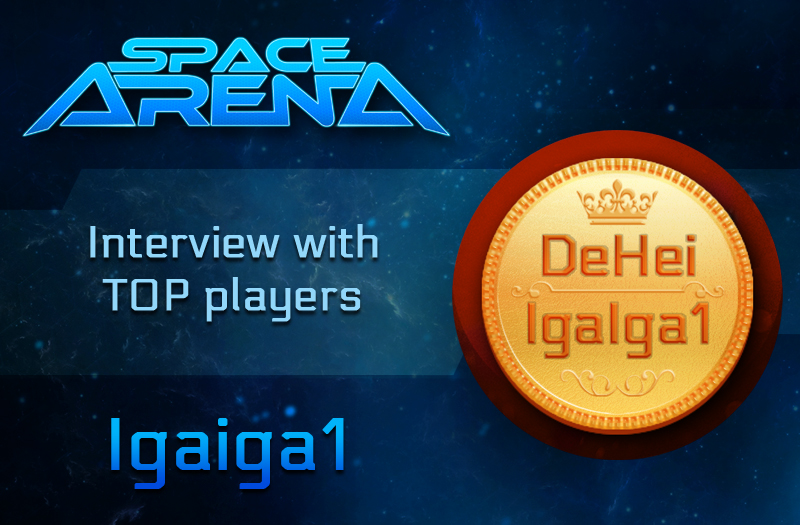 Q: What's your name, how old are you, where are you from and what is your occupation in real life?
🔹 My name is Ivan, I'm 58 and I'm the oldest player which does not matter of proud about the statistic. I'm from Bulgaria and in a real-life, I'm engaged in trading.
Q: What mobile games did you play before Space Arena and do you still play them?
🔹 Sometimes I played some games, but after Space Arena, I don't play anything else 🙂
Q: How long have you been playing Space Arena?
🔹 As far as I remember from November 2018. It's a good idea if possible players to have the possibility to check when they started.
Q: Why nickname Igaiga1 and what does it mean?
🔹 First letters of my 3 names.
Q: Did you initially set a goal for yourself to get the TOP-3 players?
🔹 I always put a goal to become number 1. It seems to be impossible at the beginning, but thanks to Multivist, DeHei and some other players I made it.
Q: What is your secret to achieving the TOP-3 positions in the game?
🔹 Class battles helped a lot from giving flexibility.
Q: How many games did you have to play in order to reach a rating of 10 000?
🔹 From the profile, I have 16k victories plus 5k defeats and maybe 2-3 class battle.
Q: What is your favorite weapon? Why?
🔹 My favorite weapon depends on META. Now it is GWS.
Q: How many games per day do you usually play? And a week?
🔹 I spend a lot of time in the game, and I play quite a lot of games a week to achieve this result.
Q: What parting advice would you give to other players?
🔹 I participate in many discussions in the official Discord and the official Reddit, so I give all the necessary advice to the players constantly 🙂 I would just like to remind some players that this game is for intelligent people. To win, you need to think, not pay. Then the balance will be saved.
Q: What would you like to add to the game to make the gameplay as fun as possible?
🔹 You have so many proposals from players so I doubt I can suggest a new idea Hope that it is ok.
Did you like the article?
443
2
0
cookie-check
We continue to interview players in the Top-2 Space Arena players in the world!