Space Brainstorm Time!
👨‍🚀 Greetings, Commanders!
"Armor and Shields protect from Ballistic fire", "Shields do not work against Lasers", "Don't worry. Luck always changes"… Bet the entire galactic community has heard all those comments. And it is not surprising, because Commanders can see them either after a defeat or on the loading screen. Some of these pieces of advice Commanders may find helpful, and some of them are pretty blatant. Nevertheless, there's no getting around the fact that tips are essential for each Commander despite the current upgrade levels of parameters of modules or accumulated number of Credits. Indeed, tips are the thought-provoking part of the game. This is what helps Commanders to work hard on improving their builds being in hangars.
❓ Commanders, perhaps some of you have your own tips which could become handy for newbies? Or, maybe, your mind is racing with some wittily original phrases in the spirit of the Space Arena universe? Well, we encourage all of you to share them with us and receive a reward!
Yes, you got this right. It is time for another community event called "Space Brainstorm"!
👾 How to participate in the event?
All you need is to visit any of our socials, find this publication and leave a comment that contains either a tip or a phrase with a Space Arena setting. HQ Staff will accept an unlimited number of phrases and tips, but make sure you send each of them in a separate message here, in this channel. Also, make sure you have attached your in-game ID in case you take part in a community event for the first time!
👾 What are the rewards for participating?
All Commanders-participants will receive 15 Auction Points (AP) no matter how many tips and phrases they will provide. The authors of tips and phrases HQ staff will find the coolest ones will receive a special reward from the HQ! Who knows, maybe some of them will be even added to the game…
👾 How long the event will last?
The Space Brainstorm event will last till July 27th. Hurry up to share your invaluable experience of yours with us!
Wish you all a productive Space Brainstorm session, Commanders!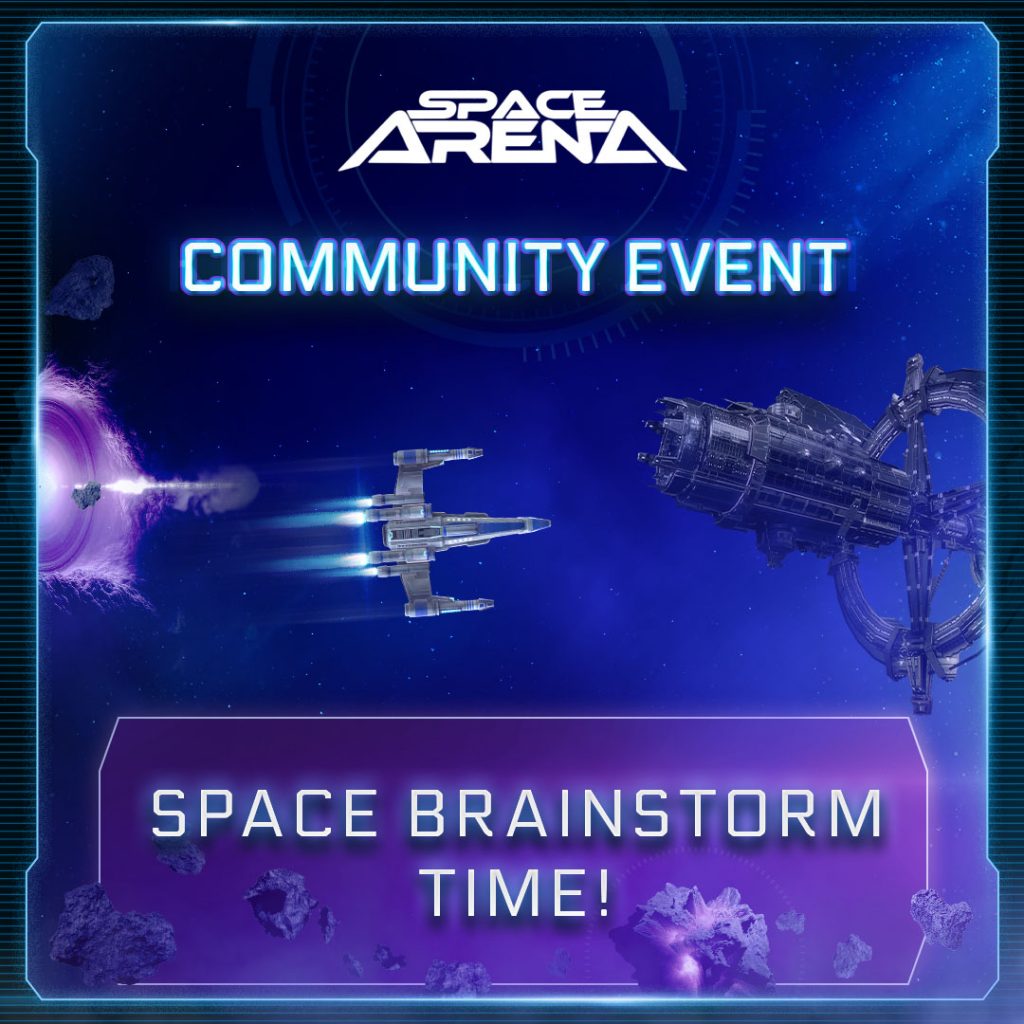 Did you like the article?
3858
4
1
cookie-check
Space Brainstorm Time!