Space Arena Days!
👨‍🚀 Greetings, Commanders!
🚀 This time we have something significant and really unusual. Well-informed Commanders already probably suspect what we are up to, but still, let's start with a little story.
📖 The world of space battles of the distant future is a rather harsh place, but not devoid of its charm and great opportunities. Everyone can come to the Space Arena and find their destiny. And some can find a lot more and imprint their names in the history. And the battles here do not fade for even a second. With one rare exception. Once in a planetary cycle, an Event occurs. The very Event that attracts tremendous attention, but not by just battles, but by something much more … Magnificent. At this time, each of the participants of the Arena receives a golden ticket in their hands, which has nothing but a single date on it. And yet everyone knows what this ticket means. And what should be done with it. In all corners of the endless universe, billions of pilots leave their hangars. They go into the vastness of space to the one place, to meet the others, to answer an invitation. They are coming to the Space Arena.
During this time, all the battles for power, influence, wealth, and glory recede to the side. And those fights that are left have no victims or losing sides. The only goal is fun.
Because many years ago, an event occurred that changed the face of the Universe. The Space Arena was created.
And today, we invite you to celebrate the Birthday of the Space Arena and hand you your Golden Ticket!
🛸 Almost five years ago, on November 30, 2016, the Space Arena project was released. And tomorrow we will celebrate the fifth anniversary of the project. It's time to start preparing your congratulations!
👾 You want to know what awaits you? Community event "Space Arena Days"! What it is? A whole week of special community tasks.
How will it be? This week you will be asked to complete five different tasks that can be tracked in a special task list. Each Commander can take part. To do so you will need to send a confirmation of the completion of the tasks to the Community Manager or in the messages below. And of course, you will receive a reward for each completed task. Those who complete all tasks and share their achievements will take part in a lottery for a special prize.
Despite the fact that the Big Day is tomorrow – the first task already awaits you. And in addition to it – the above-mentioned checklist, so that you can monitor your progress. You will find it in the message below. Be sure to pay attention to the fourth day, since the task for this day is a time-limited task that can only be completed during this day. And well, the names of the tasks may seem confusing, but when the time comes, you will understand everything. We don't want to spoil the surprises ahead of time, do we?
❗ So, the first task: share your favorite build. It doesn't have to be an ultimate build with one goal in mind – victory. It can be something fun, or perfectly symmetrical, or just creative. For example, I love the Phantom build, which I call "Pea Shooting". The main principle of this build is loading the ship with "Arsenal Walls". Try it sometime, the efficiency is zero, but it's fun and you will understand why I call it "Pea Shooting".
Send your favorite builds in the messages below or directly to the Community Manager. We'll check out all of your submissions, and who knows, perhaps your build would become a base for a new meme… Or a new meta! Oh, by the way, you will receive 5 Auction Points for completing this task.
See you at the celebration, Commanders!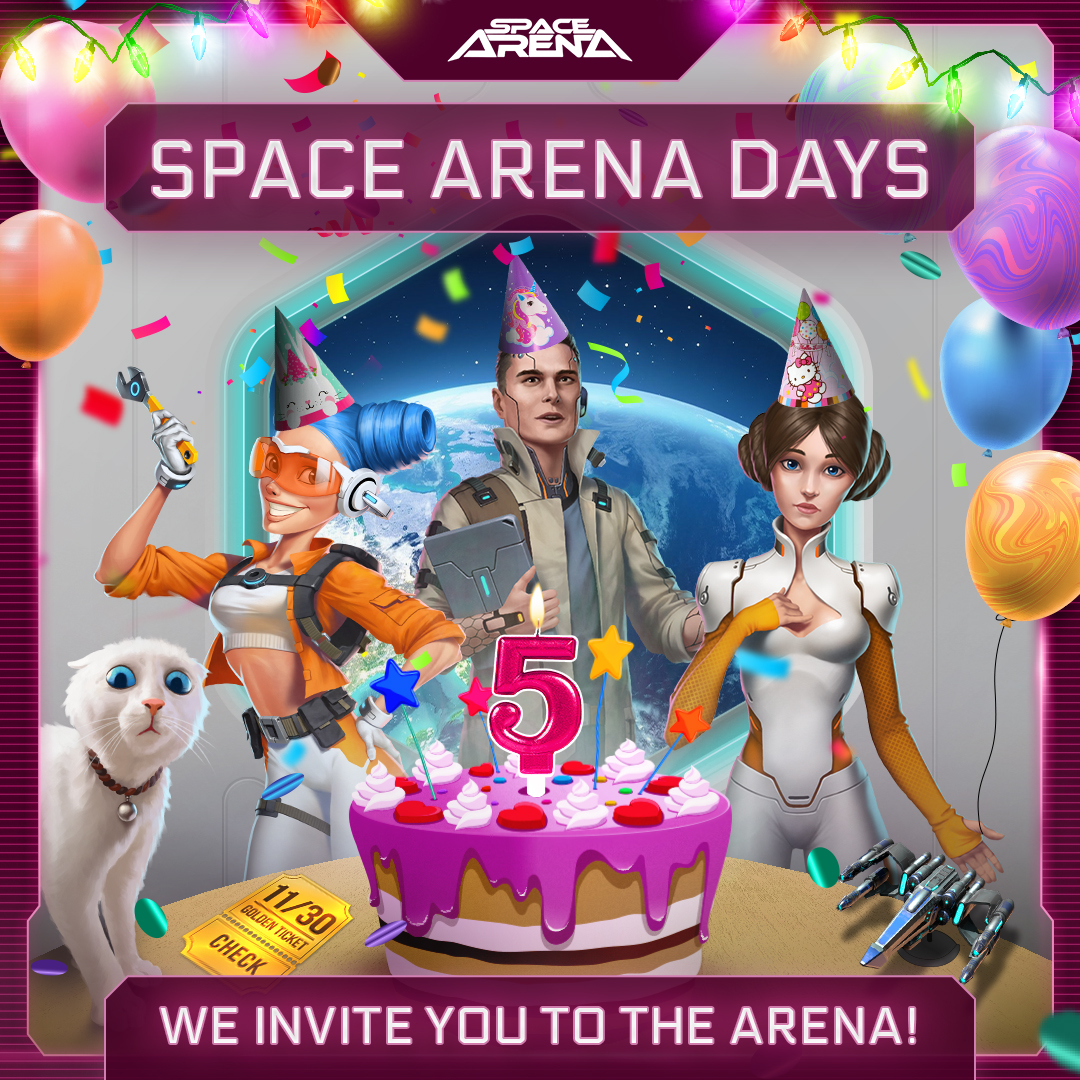 Did you like the article?
2860
6
1
cookie-check
Space Arena Days!