Update 2.10 is out! New ship Krigerskold!
Commanders, update 2.10 is out! In this update, we have added a new ship called Krigerskold. This ship is in the battleship class and it's a special ship.
Krigerskold will NOT be available for the research and purchase right away because we will be conducting some tests with the ship but it's already possible to obtain blueprints for the ship from the galaxies. After the tests, you will be able to research and purchase the ship in the store in the special ships section.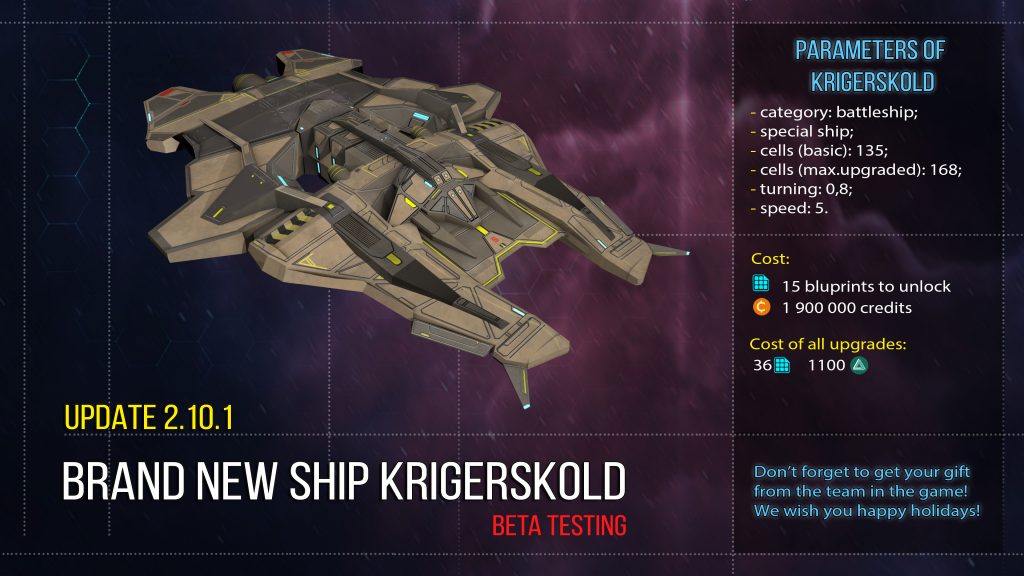 As we said, Krigerskold is a special ship. So you will need 15 blueprints to research it and another 36 blueprints to study all modifications. It can be purchased for 1,900,000 credits after the research.
These ships are used by Raiders from the far sectors, where a harsh cold climate reigns on most of the planets. Raiders often travel long distances, sometimes even for several sectors of the Galaxy to make ruthless attacks on merchant ships and on colonized planets. After robbing and taking all the spoils they quickly return to their far ends. Raiders are known for using the "Ship Wall" military formation during the space battles because these ships are well protected.
The team also wishes you happy holidays and a Happy New Year! This year was a rollercoaster for all of us so we prepared a small gift for you, don't forget to get it in the game. Stay safe!
Did you like the article?
1759
160
26
cookie-check
Update 2.10 is out! New ship Krigerskold!