Invasion of the Pirates Event Announcement!
👨‍🚀 Greetings, Commanders!
Have you managed to take a look at the intergalactic calendar while resting today? Commanders-veterans had already figured it out. We celebrate the sixth anniversary of the Space Arena foundation!
🚀 During this period, Arena Ceremonial masters managed to conduct countless battles. There's no shortage of ships used by Commanders on their way to the top. HQ is in full force congratulates all Commanders on this significant date! As one of the elder Ceremonial masters rightly points out "The centuries-old history of Space Arena is written by Commanders and only by them. The future of this Colosseum of modern times popular show, is in their hands". And the HQ agrees with it!
However, the Arena became something greater than a place for rest. The Arena is the community, where people always lend a helping hand, share their both Arena combat and engineering experience, or are just ready to hold a conversation. As they say – in unity, there is Commanders' strength. So, let's check, how close-knit you are, Commanders!
🏴‍☠ As you may probably know, the new Achilles began to appear on Arena. Despite its powerful bonuses, the unique form of the ship does not let Commanders place deadly weapons like the Doomsday laser. The balance is maintained. Was maintained… You see, pirates managed somehow to steal the manufacturing drawings of an Achilles ship. It's not hard to guess what happened next. They changed the form of Achilles in a way that it's possible now to use Doomsday laser-like weapons on it. If they decide to attack Arena using these ships, we will be literally blasted. We can't let this happen, Commanders! The completed Universe Challenge showed that we are capable of holding our own against the threat of destruction. We believe we can defend Arena once again!
👾 All Commanders need to invest their Credits as much as they can. It's up to you how exactly you want to spend them. The received resources will go towards the development of the special APS super defensive turrets – AntiPirateAchilles.
If we manage to spend 12 000 000 000 Credits before the pirate invasion, we will not only save Arena but also receive the HQ bonus – 1 Omicron Galaxy and 300 Celestium.
If we invest 9 000 000 000 Credits, HQ will need to invest in the APS development too. The reward will be 1 Mu Galaxy and 200 Celestium in this case.
The number of 6 000 000 000 Credits will help the HQ as well. Though, the reward will be different – 1 Kappa Galaxy and 100 Celestium. But make haste! Pirates will attack Arena on January 1st…
Commanders, we can succeed in preventing pirates' evil plans only through the combined efforts of our community.
Wish good luck to all of us, Commanders!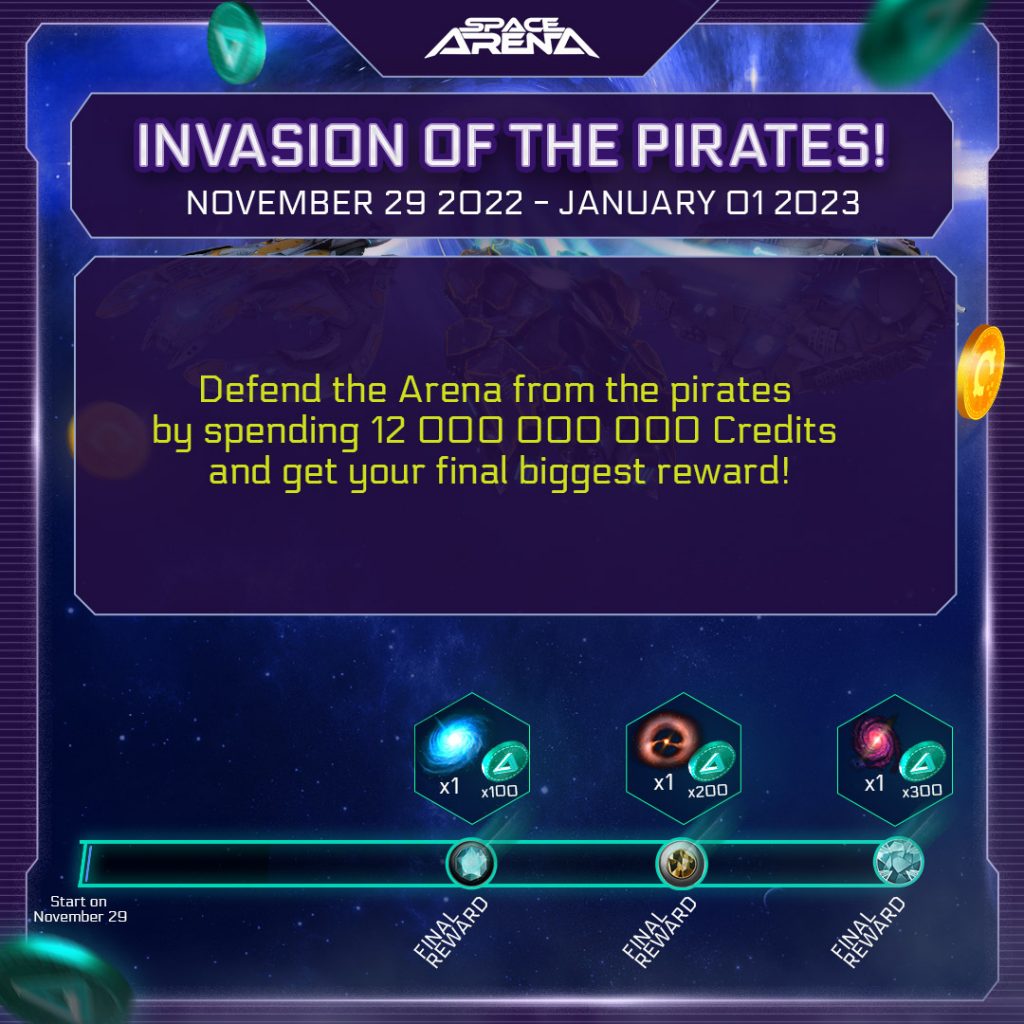 Did you like the article?
4510
7
0
cookie-check
Invasion of the Pirates Event Announcement!