Collective Story Contest Results!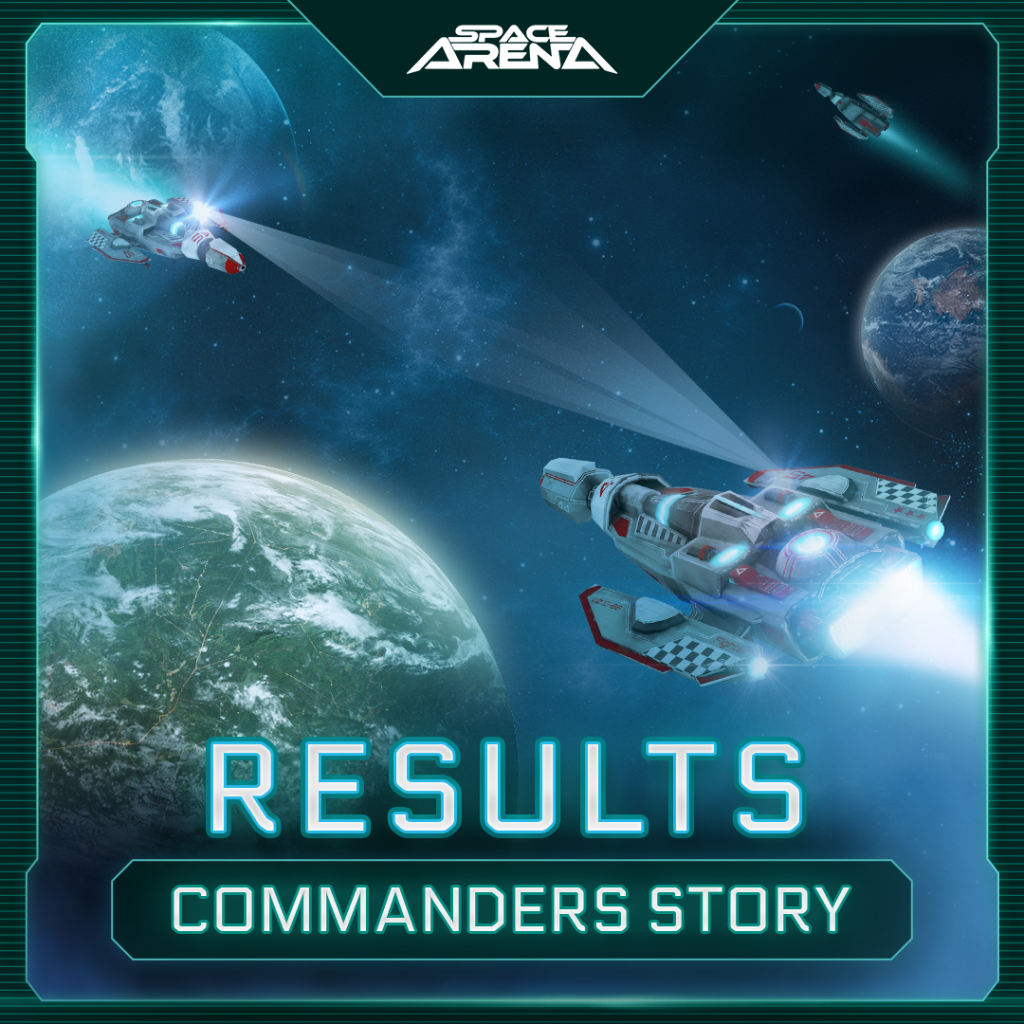 👨‍🚀 Greetings, Commanders!
The time to announce our contest winners has come! In this contest, we offered you to try your hands at writing a special story about our famous Brave Commander, and do it all together.
🚀 Let's start by looking at the stories we received:
📗 Story №1
It was early in the morning. Still half-asleep Becky'o'Hare gathered the leftovers that were scattered around her living cell, threw them in a food-processer, added some milk, and waited for her breakfast the be mixed up. 'Time to hit the bridge', she shouted, as today is…
📗 Story №2
Just yesterday, I ended my unremarkable first half of life, because just yesterday I adopted a dog. It was a big dog I encountered when I was sucked into a space with anomalous gravitation while mining in an extremely remote mining area. An ancient interstellar mothership (Prophet) equivalent to the area of ​​a nation's capital. Although she was seriously injured, she is still the largest and most advanced warship in the known universe. I am unfortunate to tell you that she belongs to me now, and I gave her a name that is as domineering as her body-Little Star. Although I also encountered a small problem-the substances needed to activate the self-repair system of Little Star belong to controlled substances. But I'm not worried, because just now, when I was walking with Little Star(mini camouflage module), she planned a whole set of plans through network big data.
Step 1: Participate in the event held by the poster that was photographed on my face by the wind: CHALLENGE. I won't tell you: I decided to sign up because of this ad slogan: "Only 5% of people can see this poster."
A few days later, I drove the mine ship modified by the little star to the place of activity: an asteroid belt. I stared at the statistics of AI dumbfounded-more than one million small boats similar to mine (really less than 5% for the entire human race). At this time, the organizer issued the rules and rewards for the first game.
Activity name: 1.2.3. Robot
Reward: First place: a PHANTOM MK.II battleship, second place… (Little star said that you don't need to watch the latter.)
Activity goal: Cross the asteroid belt within the specified time and reach the target point alive.
Activity rules: 1. After the start, the dynamic scanning array will be turned on, and then a burst of intermittent music will be emitted in the broadcast channel. Contestants must keep still when the music stops, otherwise they will be hit by the infrasonic hydrogen bomb cluster. 2. Now the escape activity will be sniped by fusion rays.
After watching the battleship fireworks for half an hour, I started a competition with the rest of the people in the sound of "Fairies" music… (space limitation).Sitting in the brand-new PHANTOM MK.II battleship, looking at the sparse spacecraft outside the porthole. I gave the order to return to the voyage. Suddenly Little Star grinned his teeth and said to me: "The human queen bee's amateur pastime is really exciting. I hope you won't have such this hobby."
A few days later, I started the second step of the repair plan: joining a clan (a kind of interstellar adventure, mercenary guild). Here you can get all the materials you want, as long as you are strong enough. Because I have a PHANTOM MK.II, I can join a good clan.
To be continued…
📗 Story №3
When i start in my ship it was hard starting and when i get some level up and with more weapons and defense and more power and i play it every day every time it my best game ever the fun start
📗 Story №4
"Time to pay my family a visit", thought the commander, "and tell the story of my latest adventure, the kids will love it!".
📗 Story №5
dear admiral Kirk it is with my deepest apologies that I send you this letter. of all the adventures I have had in starfleet, the battle at ur-namok, the warping space station of sector 968, I fear this may be my last. I am no longer of sturdy strength and mind as to continue my duties. I am thus resigning from starfleet entirely. my best of wishes to my successor. commanderinsert name here out Dear commander, in our recent admiral meeting, we also discussed your retirement proposal. I am sorry to inform you that we can not accept and confirm this at the current circumstances. Certain recent developments require our fullest attention and you will get a new mission assignment in due time, please be ready for departure on short notice. We thank you for your continued support of the starfleet. Sincerely, Admiral Kirk
📗 Story №6
dear admiral Kirk it is with my deepest apologies that I send you this letter. of all the adventures I have had in starfleet, the battle at ur-namok, the warping space station of sector 968, I fear this may be my last. I am no longer of sturdy strength and mind as to continue my duties. I am thus resigning from starfleet entirely. my best of wishes to my successor. commander insert name here out.
Admiral Kirk released a deep breath. Seems like he was on the blink of losing it. Another amazing Commander resigned. It has been the fourth one for this cycle. And Kirk had only one wish for this Christmas – to find a trustworthy Commander, who will be able to stay at the position of Frontier Discoverer for a long enough. 'Alright, mister Chekhov, show me the list of the candidates.' 'Fetching the list, Admiral' answered the mechanical voice of the personal AI assistant.
isn't the ai assistant just "computer" but demm 4 people resigned in a single cycle
Kirk with a deep inhale, sighed. "The emptiness of space must be really getting to me". Transfixed in thought, he stood up, grabbing for the bottle of Martian Whiskey beside him, Pouring the rich rouge liquid into his bedside glass, aroma tingling the back of his throat. His personal quarters looked the same but felt.. different somehow. "Why did the shadows seem so out of place?" He noticed something out of the corner of his eye. His shadow.. as black as the outside void. Fear starting to slowly take hold as he realises the rooms illumination is at 100%… The shadow is alive..
quickly, he grabbed his phaser and flipped open his communicator," security to my quarters. intruder alert" he pointer his phaser at the shadow, and demanded," who are you? show yourself!" but it did not heed him. how do you want this to go)) the shadow hostile, or wot))
"SECURITY RESPOND!" kirk shouts. panic in his voice.. No response. Eyes not shifting from what was once his shadow he sets his phaser to stun. Suddenly a deafening noise screams out of his communicator causing kirk to keel over in pain. His vision slowly going out of focus, a voice, barely recognisable whispers and shouts at the same time. "We are all (statatic) we are one (crAcKle) joint at the thread we were (crsshhh) now the light can affect us no more! (Static). he crawls for his phaser, grabs it, and fires a shot, and promptly collapses.
👾 Wow, what breathtaking stories! I can already see their Netflix adaptation in all "earth" and galactic cinemas. Indeed, we can call them something like "True stories about our brave Commander"!
And now, let's see whose writing talent should not be left behind. Here is the full list of winners:

[TFF] Gurren_Lagann
kaizye
padfoot9445
Juan Xupo
Hussin Abu Haikal
BesucherPrime

We congratulate all Commanders! See you at the next contests!
Did you like the article?
2914
3
0
cookie-check
Collective Story Contest Results!